While the Netherlands did not get involved in the war until 1989 its navy, the Royal Netherlands Navy did patrol the North Sea. This is the Royal Netherlands Navy Orbat of 1985.
Frigate
HNLMS Kortenaer (F807)
HNLMS Callenburgh (F808)
HNLMS Van Kinsbergen (F809)
HNLMS Banckert (F810)              
HNLMS Piet Hein (F811)              
HNLMS Abraham Crijnssen (F812)
HNLMS Philips van Almonde (F823)
HNLMS Bloys van Treslong (F824)
HNLMS Jan van Brakel  (F825)
HNLMS Pieter Florisz (F826)
Tromp-class frigate
HNLMS Tromp (F801)
HNLMS De Ruyter (F806)
Jacob van Heemskerck-class frigate
HNLMS Jacob van Heemskerck (F812), under construction at Royal Schelde Shipyard.
HNLMS Witte de With (F813), under construction at Royal Schelde Shipyard.
Van Speijk-class frigate
HNLMS Van Speijk (F802)           
HNLMS Van Galen (F803)           
HNLMS Tjerk Hiddes (F804)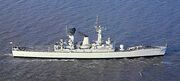 HNLMS Van Nes (F805)
HNLMS Isaac Sweers (F814)      
HNLMS Evertsen (F815)
Replenishment ships
HNLMS Zuiderkruis (A832)
HNLMS Poolster (A835)
Submarine
Zwaardvis-class submarine
HNLMS Zwaardvis ( S806)
HNLMS Tijgerhaai (S807)
Dolfijn-class submarines
HNLMS Dolfjin (S808)
HNLMS Zeehond (S809)
HNLMS Potvis (S804)
HNLMS Tonijn (S805)
Minesweeper
Dokkum-class minesweeper
HNLMS Abcoude
HNLMS Dokkum
HNLMS Drachten
HNLMS Drunen
HNLMS Gemert
HNLMS Giethoorn
HNLMS Hoogeveen
HNLMS Hoogezand
HNLMS Naaldwijk
HNLMS Naarden
HNLMS Ommen
HNLMS Rhenen
HNLMS Roermond
HNLMS Sittard
HNLMS Staphorst
HNLMS Veere
HNLMS Venlo
HNLMS Woerden
Minehunter
Tripartite-class minehunter
HNLMS Alkmaar
HNLMS Delfzijl
HNLMS Dordrecht
HNLMS Haarlem
HNLMS Harlingen
HNLMS Scheveningen
HNLMS Maasluis
HNLMS Makkum
Ad blocker interference detected!
Wikia is a free-to-use site that makes money from advertising. We have a modified experience for viewers using ad blockers

Wikia is not accessible if you've made further modifications. Remove the custom ad blocker rule(s) and the page will load as expected.